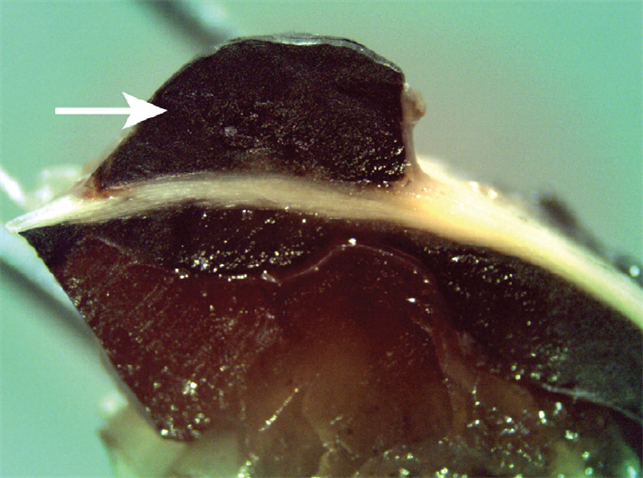 File number: 55946
---
Comments
Sign in to comment.
By McGill University Health Centre
The MUHC-McGill University
Co-author(s): Sabrina Bergeron, P. Zoroquiain, E. Esposito, S. Corredor Casas, P. Logan, A. N. Odashiro, Miguel N. Burnier, Paulina García de Alba Graue, McGill University Health Center-McGill University Ocular Pathology & Translational Research Laboratory
Uploaded on May 18, 2020.
Last modified by Caroline Bozell on May 19, 2020.
Rating

Appears in

Condition/keywords

choroidal melanoma, extraocular extension

Description

Choroidal melanoma is often asymptomatic and diagnosis is incidental. The tumors may grow beneath the retina, or may break through the Bruch membrane and disrupt the retina. Tumors breaking through the Bruch membrane and disrupting the retina have a characteristic "mushroom" shape. This enucleation specimen demonstrates a section of a choroidal melanoma showing an intraocular tumor with an extraocular extension (arrow).
Related files