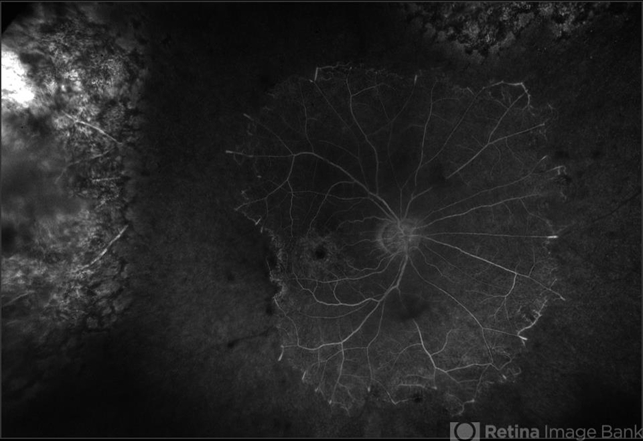 File number: 28048
---
Comments
Suber S. Huang, MD, MBA, FASRS (April 20 2018)

Beautiful capture Kim! Could lighten exposure to highlight the capillaries at the junction of vascular and avascular retina. Would re-title with multiple myeloma, CMV retinitis, and occlusive vasculopathy. Superb!
Sign in to comment.
Image of the week

May 13, 2018
View all images of the week

Rating

Appears in

Condition/keywords

ultra-wide field imaging, fluorescein leakage, fluorescein angiogram (FA), peripheral ischemia, cystoid macular edema (CME), myeloma, intravitreal ganciclovir, positive polymerase chain reaction (PCR)

Photographer

Kim Barrett, COA

Imaging device

Fundus camera
Optos

Description

Ultra-wide field fluorescein angiogram of a 77-year-old male with multiple myeloma. Patient's angiogram presented significant peripheral retinal ischemia and cystoid macular edema. Patient tested positive for polymerase chain reaction, confirming cytomegalovirus retinitis. Patient is being treated with intravitreal ganciclovir and his current vision is 20/200.
Related files