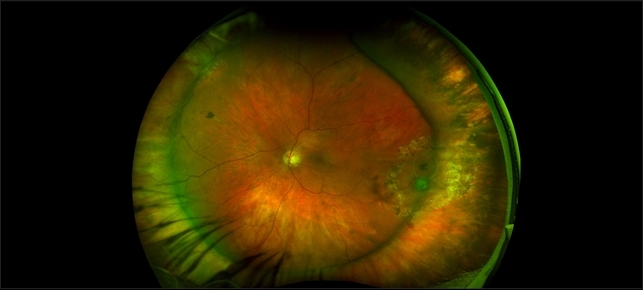 File number: 27339
---
Comments
Suber S. Huang, MD, MBA (October 13 2017)

Great shot. If you have an assistant, try everting the lashes with a cotton-tip. Thanks!
Sign in to comment.
Image of the week

Jan 7, 2018
View all images of the week

Rating

Appears in

Condition/keywords

scleral buckle, retinal detachment, Optos, ultra-wide field imaging, retinal tear, cryotherapy, cryo-retinal tear

Photographer

Carolyn Daley

Imaging device

Fundus camera
Optos Imaging

Description

An ultra wide field fundus photograph of a 57-year-old male who has a past history of retinal detachment corrected with scleral buckle and three treated retinal tears.
Related files