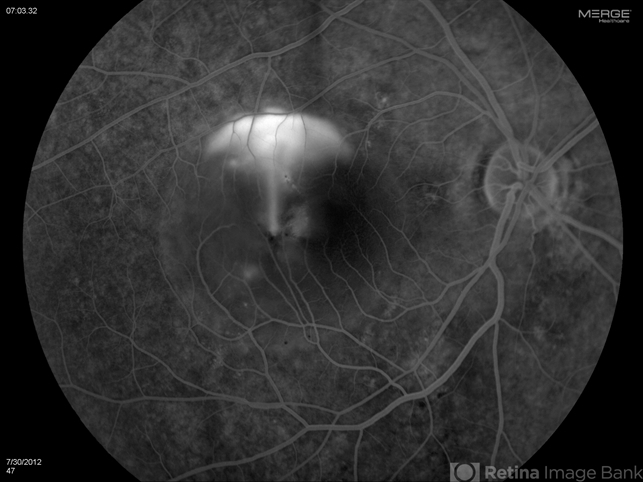 File number: 24576
---
Comments
Sign in to comment.
Image of the week

Apr 26, 2015
View all images of the week

Rating

Appears in

Condition/keywords

CSCR subfoveal leak

Photographer

Diana Bodnar, COT

Imaging device

Fundus camera
Topcon 50X with Merge capture station

Description

Late transit FA of a large active sub-foveal CSCR leak. You may view this pair in stereo to appreciate the plume of leakage within this large serous RD of the macula. This patient presented with a BCVA of 20/200 and fluorescein and historic evidence of prior episodes of leakage. After discussion of known treatment options including observation, he elected to be treated initially with oral rifampin and BCVA improved to 20/40 with persistent metamorphosis and a shallower persistent macular detachment over several visits. Rifampin was discontinued and he then received sub-threshold micro-pulse laser photocoagulation with an 810 diode which resulted in the patient reporting full restoration of his vision subjectively within a month. He failed to keep his follow-up appointment.
Related files