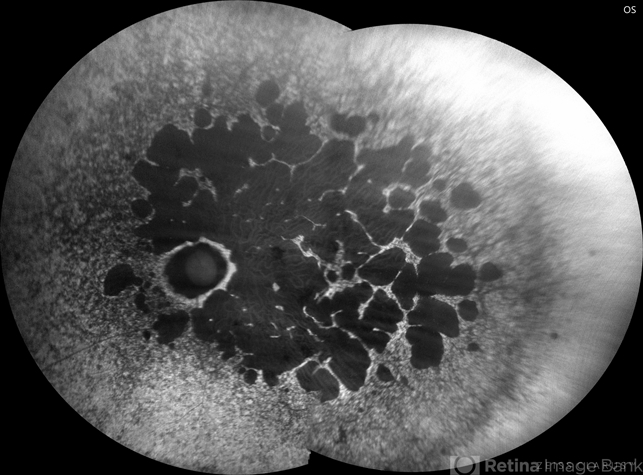 File number: 102994
---
Comments
Niloofar Piri, MD (March 24 2023)

Thank you!

Manish Nagpal, MD, FRCS (UK), FASRS (March 24 2023)

amazing capture
Sign in to comment.
By Niloofar Piri, MD
St Louis University
Co-author(s): William J Anderson, MD, Saint Louis university; Sean Kelso, Saint Louis University
Uploaded on Nov 29, 2022.
Last modified by Joshua Friedman on Jul 13, 2023.
Image of the week

Jul 16, 2023
View all images of the week

Rating

Appears in

Condition/keywords

hereditary retinal degeneration, hereditary retinal dystrophy, rod cone dystrophy

Photographer

Sean Kelso, Saint Louis University

Imaging device

Fundus camera

Description

Fundus autofluorescence of the left eye in a 58 yo male with rod cone dystrophy. He presented with night blindness and peripheral vision loss since youth and recent decrease in central vision for the past 10 years. Notice multiple coin shaped hypoautofluorescent pacthes within central 20 degrees which are coalescing centrally. (fundus photo uploaded separately) He has one pathogenic variants of both CEP290 and PRPH2 genes.
Related files