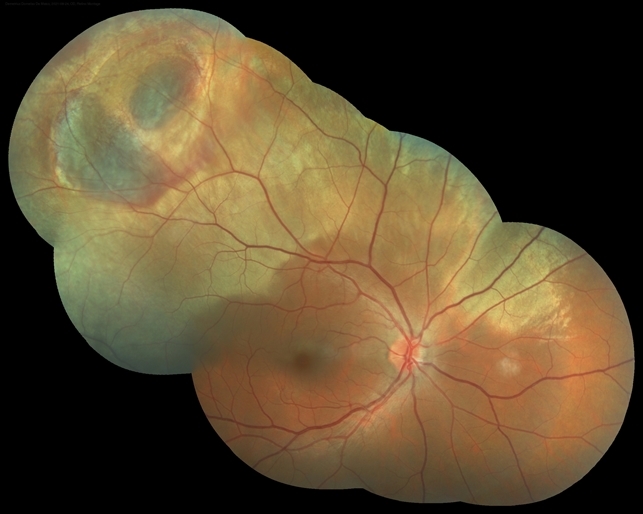 File number: 85090
---
Comments
Sign in to comment.
By Luiz Guilherme Freitas, MD, MsC, PhD
Hospital De Olhos Santa Luzia
Co-author(s): Marilia Maruza, MD; Renato Silva, MD, Clovis Freitas, MD, Fabiana Gonçalves, MD; Luiz Guilherme Freitas, MD, MsC, PhD
Uploaded on Sep 22, 2021.
Last modified by Joshua Friedman on Apr 15, 2022.
Image of the week

Apr 17, 2022
View all images of the week

Rating

Appears in

Condition/keywords

commotio retinae, blunt trauma, retinal whitening, Berlin's edema

Photographer

Diogo Melo, Santa Luzia Eye Hospital Recife - PE – Brazil

Imaging device

Fundus camera

Description

Fundus photograph of a 30-year-old male patient with blunt injury to the globe. Commotio retinae is retinal whitening/opacification that results from a blunt injury. The ocular findings will often resolve in a matter of days to weeks. Vision loss can result from commotio involving the posterior pole (historically referred to as Berlin's edema). Clinical findings of commotio include the characteristic retinal whitening. Commotio may result in significant vision loss that can be transient. Healing can result in pigmentary changes and retinal thinning which may be associated with poor visual recovery if the area of involvement is macular.
Related files