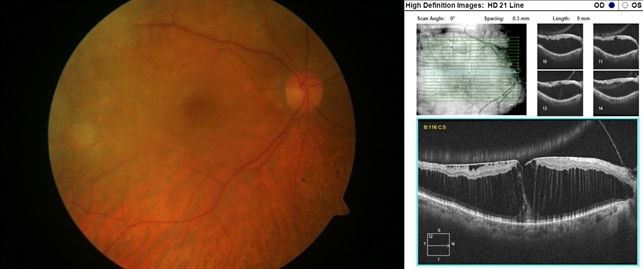 File number: 80941
---
Comments
Sign in to comment.
By Dhaivat Shah
Sankara Nethralaya
Co-author(s): Dr Mradula Gangwar
Uploaded on Jul 27, 2021.
Last modified by Jennifer Carstens on Jul 27, 2021.
Rating

Appears in

Condition/keywords

retinoschisis, optical coherence tomography (OCT)

Photographer

Choithram Netralaya

Imaging device

Optical coherence tomography system

Description

Senile retinoschisis is an acquired, idiopathic, degenerative condition of the neurosensory layer of the retina. It is characterized by separation at the outer plexiform layer or less commonly at the neurosensory layer of the retina. A 71-year-old male underwent cataract surgery in the right eye 1 week before his presentation to retina clinic. His chief complaint was minimal visual improvement after the surgery. His visual acuity in the right eye was 5/60 before cataract surgery and 6/60 after the surgery and no improvement with pinhole. On fundus examination of the right eye, an immobile, transparent subtle bullous elevation of the retina with minimal pigmentary changes was noted at the macula. The absence of a retinal tear , corrugations and demarcation lines differentiate it from rhegmatogenous retinal detachment. Optical Coherence Tomography is a confirmatory tool to diagnose senile retinoschisis. The OCT of this patient showed epiretinal membrane and coalescence of microcystic degenerations with splitting of the outer plexiform layer from rest of the outer retinal layers. Guarded visual prognosis was explained.
Related files