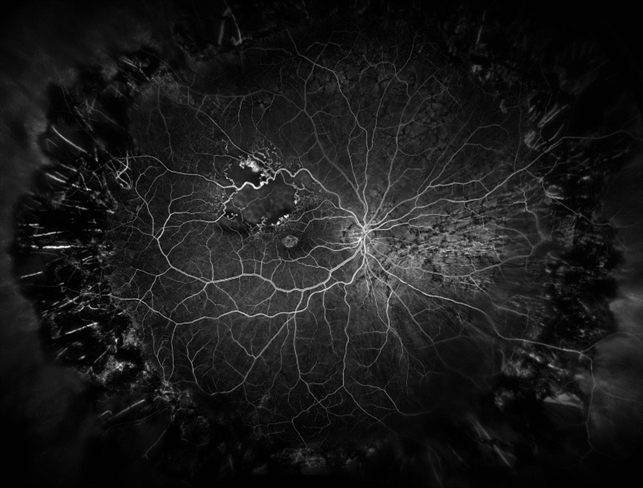 File number: 68385
---
Comments
James B. Soque, CRA, OCT-C, COA, FOPS (January 17 2022)

This is an excellent representation of ischemia in this BRVO patient captured with the Optos UWF FA camera. The leakage is well documented. Thank you for your superb submission! You do our profession a great justice Olivia!
Sign in to comment.
By Olivia Rainey
Retina Specialists of Michigan
Co-author(s): Liliya Shevchenko-Sutherland, DO
Uploaded on Dec 9, 2020.
Last modified by Caroline Bozell on Dec 10, 2020.
Rating

Appears in

Condition/keywords

branch retinal vein occlusion (BRVO), macular branch retinal vein occlusion (BRVO), vitreoretinal surgery, retinal detachment, non-perfusion, scleral buckle

Photographer

Olivia Rainey, OCT-C, COA

Imaging device

Fundus camera
Optos California

Description

Ultra-widefield angiogram of a 78-year-old male with a branch retinal vein occlusion affecting his right eye. The patient was diagnosed on 12/17/12 at another practice. The physician noted that there wasn't NVE noted, however areas of micoaneurysmal dilation is present. She noted retinal ischemia secondary to BRVO. 12/8/20 leakage on FA noted to be worsening compared to his previous angiography. She has concern for progressing NVE and recommends sector PRP after injection of antiVEGF series of 3 for the health of the eye.
Related files