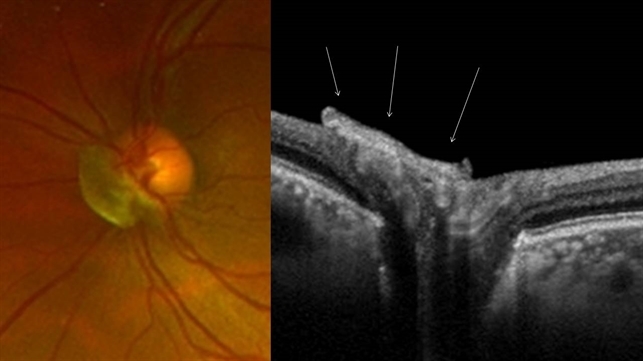 File number: 64273
---
Comments
Sign in to comment.
By Dhaivat Shah
Sankara Nethralaya
Co-author(s): Dr Ravin Punamia
Uploaded on Sep 29, 2020.
Last modified by Caroline Bozell on Oct 1, 2020.
Rating

Appears in

Condition/keywords

Bergmeister's Papillae

Imaging device

Optical coherence tomography system

Description

Bergmeister's papilla is a small tuft of glial tissue which arises from the center of the optic disc, and represents a remnant of the fetal hyaloid artery. The hyaloid artery provides nutrition to the lens during development, and runs forward to the lens from the optic disc. At birth the hyaloid artery regresses, and is normally completely regressed by the time of birth. Bergmeister's papilla is frequently observed as an incidental clinical finding if this artery has an incomplete regression posteriorly. However, in the severe forms it can be associated with cataracts, persistence of the primitive vitreous, microphthalmia, vitreous hemorrhages and sometimes tractional retinal detachment, due to contraction of the residual fibro vascular tissue. Therefore, careful monitoring of vitreous thickening in the peripapillary areas, both by examining the ocular fundus, and especially by SD-OCT, is of considerable importance. Here we have one such of a 30 year old young male who came in for a routine checkup, in whom we noted a Bergmeister's papilla. Due to its benign nature, patient was reassured and was asked to follow up yearly.
Related files