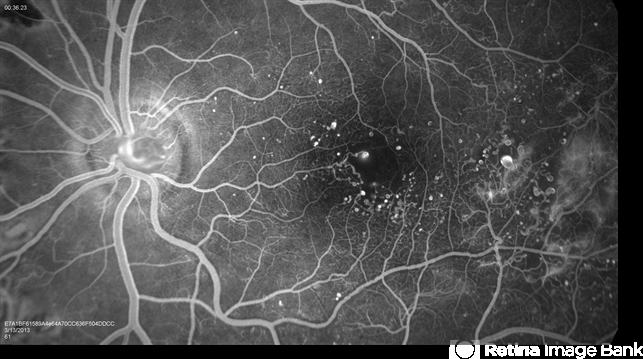 File number: 5480
---
Comments
Michael P. Kelly, FOPS (April 1 2013)

This is an outstanding image. Make sure to click the magnify glass button (top left corner of the image) to appreciate the extreme detail.
Sign in to comment.
Rating

Appears in

Condition/keywords

proliferative diabetic retinopathy (PDR), neovascularization (NV), diabetic macular edema

Photographer

James B Soque, CRA, COA

Imaging device

Topcon TRC 50DX with MERGE software, OIS 10.6.45

Description

39-year-old white female and long standing diabetis, c/o new peripheral symptoms of left eye. FA OS reveals diabetic macular edema, microaneurysms, and neovasculaization elsewhere. Fluorescein Angogram, Early Phase, 50 Deg, 2x Mag.
Related files