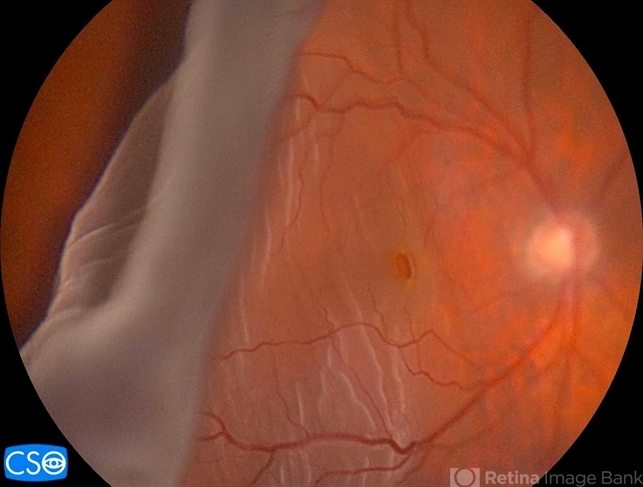 File number: 45626
---
Comments
Anamika Dwivedi (September 18 2020)

Excellent image... all in one frame!!!

Manish Nagpal, MD, FRCS (UK), FASRS (June 10 2020)

its beautiful image matteo
Sign in to comment.
By MATTEO M FORLINI, MD
DOMUS NOVA HOSPITAL RAVENNA
Co-author(s): Alessandro Romani MD, Purva Date MD
Uploaded on Jan 6, 2020.
Last modified by Caroline Bozell on Jul 16, 2020.
Image of the week

Jun 7, 2020
View all images of the week

Image of the year

Rating

Appears in

Condition/keywords

giant retinal tear, full thickness macular hole, retinal detachment, silicone oil

Photographer

Matteo Forlini MD, San Marino Hospital, Republic of San Marino

Imaging device

Fundus camera

Description

A 61-year-old-male patient presented with sudden diminution of vision in the right eye due to retinal detachment with giant retinal tear and macular hole. Best corrected visual acuity (BCVA) at presentation was 20/200. A 23 G vitrectomy was performed. The edges of the tear were unrolled and complete retinal re-attachment under PFCL was achieved. A 360 degree intraoperative endolaser was performed on the peripheral retina as well as around the edges of the tears. PFCL was exchanged with silicone oil 5000cs as final tamponade. At six-months follow-up retina was attached and macular hole was repaired. Best-corrected visual acuity is 20/125 at present.
Related files