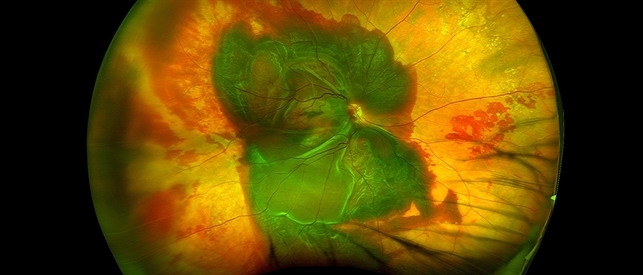 File number: 37229
---
Comments
John S. King, MD (November 10 2019)

Thanks Dr. Huang!

Suber S. Huang, MD, MBA (November 8 2019)

superb capture John and Shelly. Thank you!
Sign in to comment.
Image of the week

Dec 8, 2019
View all images of the week

Rating

Appears in

Condition/keywords

subretinal hemorrhage, wet age-related macular degeneration (wet AMD)

Photographer

Shelly Blair

Imaging device

Fundus camera
Optos CA

Description

78-year-old white female using 1mg of warfarin for atrial fibrillation, who had a large PED, Type 1 lesion from AMD. Noticed acute darkening of vision one week after anti-VEGF injection. Has very large SRH, subRPE heme, and corrugated retinal appearance post RPE tear. Vision HM (from 20/100). 20/25 in the fellow eye that has dry AMD.
Related files