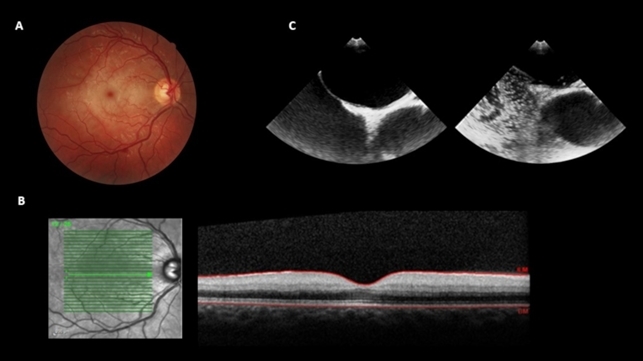 File number: 35199
---
Comments
Sign in to comment.
Rating

Appears in

Condition/keywords

central retinal artery occlusion (CRAO), patent foramen ovale

Photographer

Patrícia José

Imaging device

Optical coherence tomography system

Description

A 19-year-old man presented in emergency department (ED) reporting painless blurred vision in the right eye that started one hour ago while he was doing exercise. His medical history was unremarkable. On examination, best corrected visual acuity in the right eye was counting fingers (20cm), right relative afferent pupillary defect was evident, intraocular pressure and anterior segment were normal. Dilated retinal examination revealed retinal whitening in the macular area and a cherry red spot (panel A) that became increasingly evident with time. Patient denied other systemic symptoms. Macular spectral domain optic coherence tomography showed hyperreflectivity of the inner retina (panel B). In ED, patient underwent ocular massage using a three-mirror contact lens and topical hypotensive treatment. Additionally, oral antiplatelet and hyperbaric oxygen treatment were initiated. Further investigation was performed and fluorescein angiography revealed a delay in arterial filling. Blood tests including hypercoagulation disorders investigation, plain chest radiography and electrocardiogram were unremarkable. Patent foramen ovale was diagnosed in transesophageal echocardiogram (panel C), anticoagulation therapy was promptly initiated and percutaneous closure of patent foramen ovale was done successfully a few weeks later. Final best corrected visual acuity was 20/200 and macula developed atrophy.
Related files