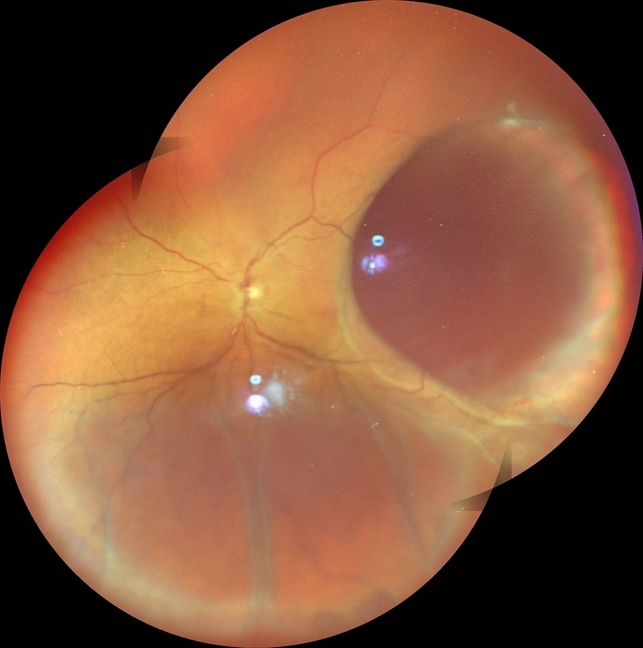 File number: 33172
---
Comments
Gayathri Mohan (November 8 2019)

Have added the details to the description Sir. Also there's an ultrasonography attached to the case.

Suber S. Huang, MD, MBA, FASRS (November 8 2019)

Can you confirm that there is a choroidal mass? These large clear cystic changes can be seen in a variety of conditions. The clinical history lacks critical clinical details. Please add these to the description.
Sign in to comment.
By Gayathri Mohan
Co-author(s): Dr. Manish Nagpal, Dr.Navneet Mehrotra- Retina Foundation
Uploaded on Aug 28, 2019.
Last modified by Gayathri Mohan on Nov 8, 2019.
Rating

Appears in

Condition/keywords

choroidal mass, collar button, retinal detachment

Photographer

Dr. Gayathri Mohan, Retina Foundation

Imaging device

Scanning laser ophthalmoscope
Nidek Mirante SLO

Description

50 year old female came with diminution of vision in the LE. Wide field fundus photograph showing an intraocular mass temporally along with an exudative retinal detachment inferiorly. Ultrasonography showed an intraocular mass with collar button appearance suggestive of a Choroidal melanoma. She underwent enucleation and histopathology confirmed a spindle cell choroidal melanoma
Related files