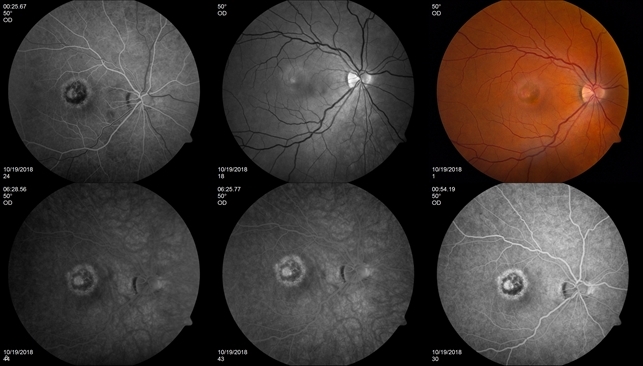 File number: 30031
---
Comments
Sign in to comment.
By William Ensor
Geisinger Eye Institute
Co-author(s): Tamara Vrabec, MD, Geisinger Eye Institute
Uploaded on May 7, 2019.
Last modified by Caroline Bozell on May 9, 2019.
Rating

Appears in

Condition/keywords

unilateral acute idiopathic maculopathy

Description

A 37-year-old female presented with a two-week history of vision loss in the right eye. She experienced a flu-like illness including rash on the hands, feet, and mouth 2 days prior to her vision change. Her 3-year-old son had a similar illness diagnosed as hand, foot, and mouth disease by his pediatrician one week prior. Her visual acuity was 20/150 of the right eye, and 20/20 of the left eye. On dilated fundus examination, the left eye was unremarkable; the right eye revealed a circular, variably pigmented lesion of the macula. OCT imaging showed areas of RPE loss and clumping, with overlying loss of the photoreceptor layer. Fluorescein angiography showed central and peripheral hyperfluorescence consistent with window defect, and blockage in area of RPE loss. No treatment was initiated at this time. The patient returned 10 days later; her visual acuity improved to 20/50 in the right eye. Dilated fundus exam showed increased pigmentation of the macular lesion. OCT of the right eye showed further RPE clumping without recovery of the photoreceptor layer, despite her improved visual acuity.
Related files