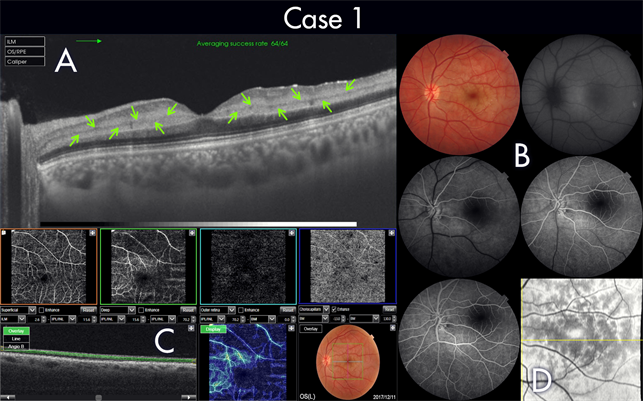 File number: 28721
---
Comments
Sign in to comment.
Rating

Appears in

Condition/keywords

optical coherence tomography (OCT), paracentral acute middle maculopathy

Photographer

Dr.Fawwaz Al Mamoori (Al Mamoori Eye Clinic)

Imaging device

Optical coherence tomography system
Triton Swept Source OCT (TOPCON)

Description

25-year-old male patient medically free, had sudden deterioration in his left eye vision. Visual acuity on presentation was counting fingers at 3 meter distance. Marked Relative Pupillary Afferent Defect (RAPD) was detected and fundoscopic exam showed abnormal foveal reflex. SS OCT B scan: showed a hypereflectivity of the inner plexiform layer (IPL), inner nuclear layer (INL) and OPL layer (fig 1, A).FA images were normal (fig 1, B). Angiography shows remarkable perifoveal capillary drop out within middle retinal layer correlating with perfusion density map which reveals significant decrease in capillary density at the same level (Fig 1, C). Enface ads more proof to PAMM by delineating ischemic distribution in a fern like pattern of hyper reflective areas within DCP (fig1, D).
Related files