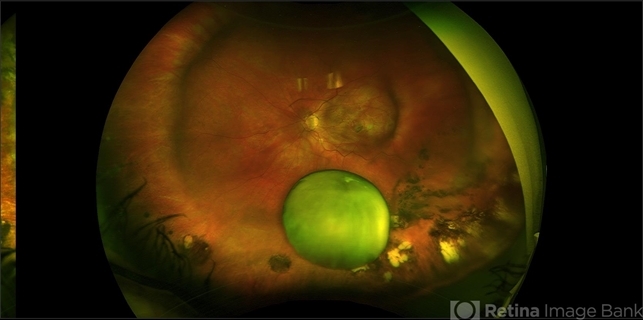 File number: 28625
---
Comments
Sign in to comment.
Image of the week

Mar 3, 2019
View all images of the week

Rating

Appears in

Condition/keywords

dislocated crystalline lens, staphyloma, pathologic myopia, scleral buckle

Photographer

Maisee Yang

Imaging device

Fundus camera
Optos California

Description

55-year-old white female with history of pathologic myopia+, lattice (laser), SB OU (1990s), and dislocated natural lenses OU that had been watched for years. In the fellow eye she developed phacolytic glaucoma and a PPV, PPL was performed. Plan for both eyes are monitoring. I wanted to get a good picture of her lens today with the optos machine, as the other pics had artifact from the lower lid. It worked out well to use a speculum in the left eye. Vision cc is 20/400 J1+ OD and 20/40 J2 OS; aphakic OU; vitreous clear OD; dislocated lens OS (see pic); retinas attached.
Related files