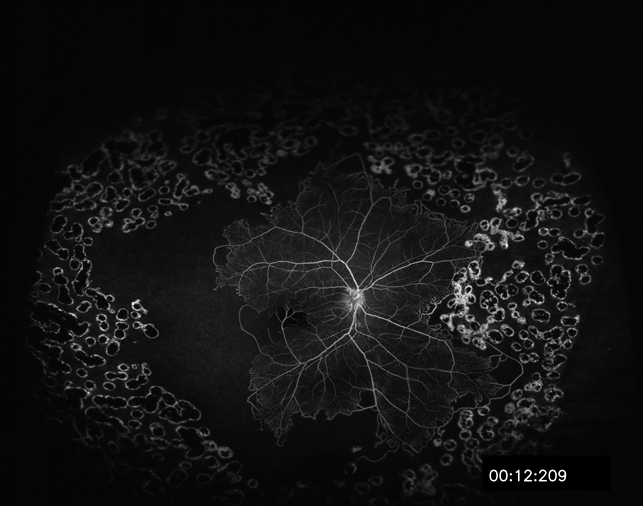 File number: 28086
---
Comments
Hosam Attia, MD (July 3 2018)

2- it's striking that despite the extent of the peripheral CNP, that at least angiographically (which doesn't necessarily correlate with the clinical findings 100%, all the times), the patient doesn't have any active (leaking) or involuting/ involuted (staining) NVD/ NVE, although again they may have NVI, NVA, NVG, Vit hge etc ... but otherwise the PRP may be adequate. Not sure if one has to cover the entire CNP, just based on the angiogram, it's a mass response and may be if we cover 70-80% of the ischemic area, that it will be enough to tip the balance over, unless again the patient is till showing signs of Dx activity, regardless of the angiogram ...

Thanks again for sharing an excellent photo.

Hosam Attia, MD (July 3 2018)

Excellent photo ... Thank you for sharing

I have a question and a comment ..

1- Was this PRP - targeted using Navilas or alike system, or just clinically guided by the clinically grossly avascular retina - the pattern of following the CNP everywhere else except temporally is striking, which leads one to assume, it was intentional, which is not necessarily a bad idea when someone have macular ischemia to that extent for multiple reasons, at least in the first session or two if done in multiple sessions

Suber S. Huang, MD, MBA (June 7 2018)

Superb image. Additional details of clinical history including duration of disease, vision, and when laser was performed would be useful. Consider editing your clinical description.
Thank you for sharing!
Sign in to comment.
By SUSHIL BHATT
PGIMER CHANDIGARH
Co-author(s): Arun Kapil PGIMER chandigarh India
Uploaded on Apr 12, 2018.
Last modified by Caroline Bozell on Jun 29, 2018.
Image of the week

Jul 1, 2018
View all images of the week

Rating

Appears in

Condition/keywords

capillary nonperfusion

Photographer

Bhatt Sushil PGIMER chandigarh INDIA

Imaging device

Scanning laser ophthalmoscope
OPTOS Ultra wide Field

Description

OPTOS ultra wide field angiogram of an 45 years old diabetic male patient shows capillary nonperfusion areas with inadequate laser.
Related files