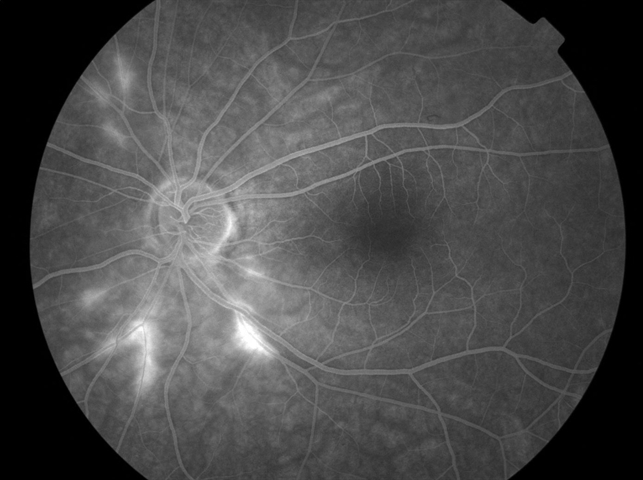 File number: 27852
---
Comments
John S. King, MD (April 21 2018)

Thank you!

Suber S. Huang, MD, MBA (April 20 2018)

Brilliant image. Especially appreciative of the detailed history. It's what makes an excellent image outstanding!
Sign in to comment.
Image of the week

May 20, 2018
View all images of the week

Rating

Appears in

Condition/keywords

Susac's syndrome, retinal vasculitis

Photographer

Kay Dalby

Imaging device

Fundus camera
Topcon

Description

Background: 46-year-old WF with CML (stable on Sprycel) saw her PCP for headaches without known cause; Headaches worsened and became confused, disoriented, off balance, and impaired short term memory. Heme-oncology ordered MRI that showed abnormal signal in the cerebellum and other parts of the brain, and LP has elevated protein. LP did show positive tau test, but fortunately, was a false positive for CJD. IV and PO steroids started and symptoms improved. MRI showed much improvement one month since starting steroids. 3 weeks later had a scotoma in right eye and eye doctor did not find anything at that time to cause it. Tinnitus developed (and some intermittent vertigo before that) and ENT referred back to eye doctor, who then referred the patient to Dr. Zocchi. He found a CWS and BRAO OD, and bilateral arteritis. She had some additional work-up for vasculitis. Given the retinal arteritis, cochlear issues, and MRI findings, Dr.Zocchi suspected Susac's Syndrome. She was started on multiple regimens including prednisone, IVIG, azathiprine, and MTX, and has had the best reponse to IVIG (FA shows a recurrence/worsening while adjusting IMT). She is stable and doing well with 20/20 vision in both eyes.
Related files