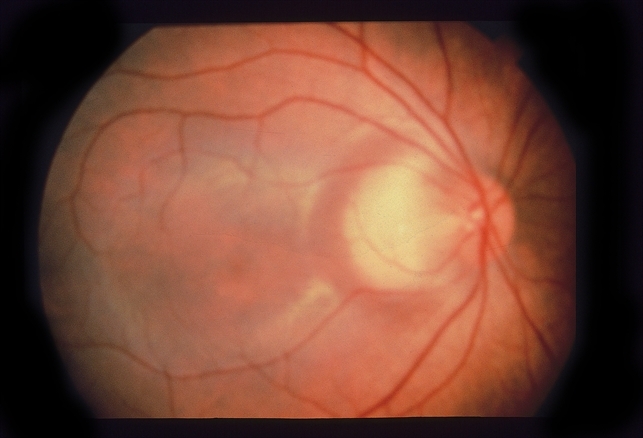 File number: 10903
---
Comments
Sign in to comment.
By Maurice F. Rabb
From the collection of Maurice F. Rabb, M.D.
Uploaded on Oct 4, 2013.
Rating

Appears in

Condition/keywords

retina

Description

A 7 week old girl with a family history of retinoblastoma was found to have a small retinoblastoma in each eye. In the right eye the tumor was adjacent to the optic disc in the papillomacular bundle and measured 2 X 2 X 2 mm. Its temporal margin was 1.0 mm from the foveola and it overhung 20% of the optic disc surface. There was not clinical or ultrasonographic evidence of vitreous seeking or optic nerve invation. In the left eye there was a solitary tumor 1mm superonasal to the optic disc. The tumor measured 1 X 1 X 1 mm. The foveal reflex was normal in both eyes. Both tumors showed a fluorescein angiographic pattern compatible with retinoblastoma with rapid filling and late hyperfluorescence.
Related files