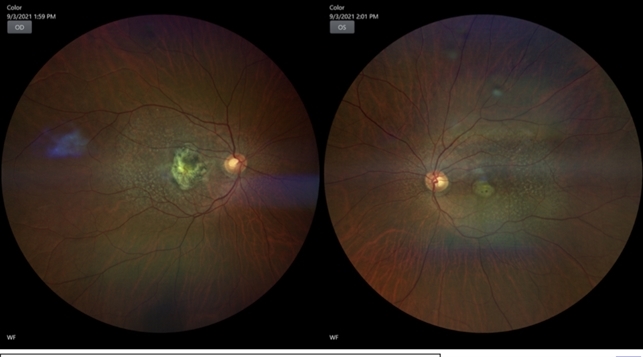 File number: 103993
---
Comments
Sign in to comment.
Rating

Appears in

Condition/keywords

Doyne's Honeycomb, FAMILIAL DOMINANT DRUSEN, choroidal neovascular membrane (CNVM), intravitreal injection, Malattia Leventinese

Photographer

NATIONAL INSTITUTE OF OPHTHALMOLOGY, PUNE

Imaging device

Fundus camera
ZEISS CLARUS

Description

A 45-year-old man presented with diminution of vision in both eyes with metamorphopsia, which was painless and gradually progressive in nature. BCVA at presentation were 6/40 and 6/36 for the right and left eye respectively. Anterior segment examination of both eyes was unremarkable. IOP were within normal limits. Fundus examination showed bilateral numerous yellowish white round closely spaced lesions extending radially from the vascular arcades till the periphery associated with an elevated grayish macular choroidal neovascular membrane (CNV) with multiple drusen in the macular area and posterior pole. Impression was Familial Dominant Drusen (Doyne Honeycomb Drusen) associated with CNVM, both eyes. Color fundus photograph and autofluorescence showed Familial Dominant Drusen with CNVM. Subsequently , the patient underwent periodic intravitreal injections of Ranibizumab in both eyes under guarded visual prognosis, for which he tolerated well.
Related files