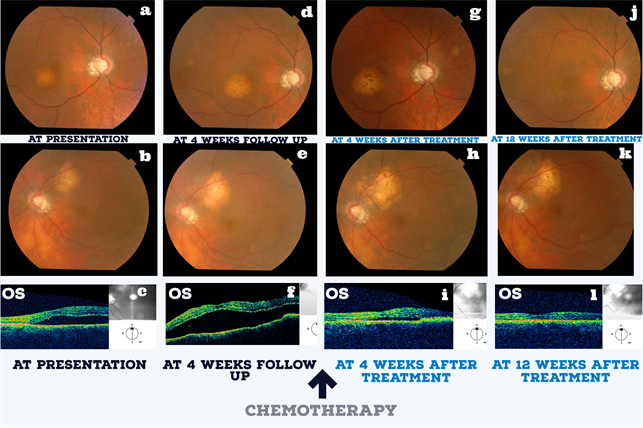 File number: 74774
---
Comments
Sign in to comment.
Rating

Appears in

Condition/keywords

choroidal metastasis, choroidal mass

Photographer

Deependra Vikram Singh, Eye-Q Superspecialty Eye Hospitals, Gurugram

Imaging device

Fundus camera
Topcon

Description

Fundus photographs and OCT scans of a 73-year-old non-smoker Indian male who presented to our retina clinic in 2013 with blurred vision in left eye for past 2 weeks. BCVA was 20/20 in right eye and 20/40 in left eye. Slit lamp exam was unremarkable for both eyes with no cells in aqueous or anterior vitreous. Fundus examination revealed creamy yellow choroidal lesions in both eyes. Lesion in right eye was one disc diameter (DD) in size and was located close to fovea (Fig-1a). Lesion in the left eye was bigger with a size of 2 DD located superior to fovea (Fig-1b). OCT scan for left eye revealed neurosensory detachment involving fovea (Fig-1c). Fundus fluorescein angiography was inconclusive for right eye and showed late hyper fluorescence the choroidal lesion in left eye. Patient underwent detailed systemic work up for malignancy that revealed primary lung non-small cell carcinoma. He had widespread metastasis affecting liver and brain. Palliative chemotherapy and radiotherapy were initiated 4 weeks after he presented to us. The choroidal lesions show progression on fundus picture and OCT scans done at 4 weeks follow up after initial presentation (Fig – 1d, e, f). The lesions in both eyes show regression at 4 weeks and 12 weeks follow up after initiation of therapy. Unfortunately, patient succumbed at 13 weeks follow up due to disease progression. The case demonstrates rare bilateral choroidal metastasis from primary lung cancer and also highlights that lesions can be asymptomatic till they develop neurosensory detachment as evident from asymptomatic lesion in right eye despite proximity to fovea and symptomatic lesion in left eye with NSD.
Related files