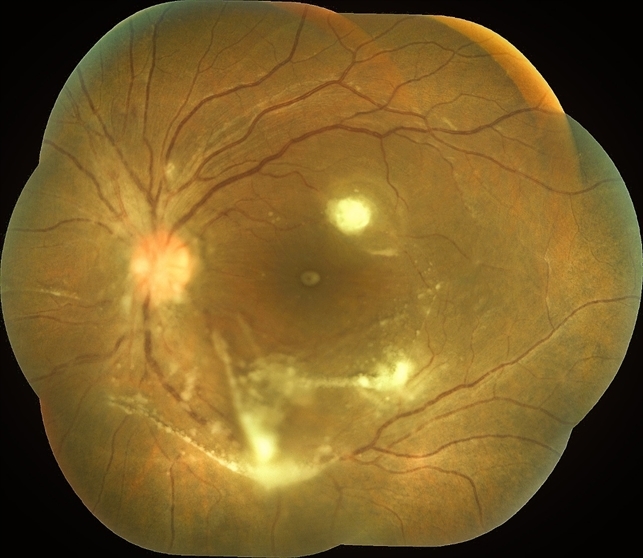 File number: 47692
---
Comments
Sign in to comment.
By Marlon García Roa, MD
INSTITUTO MEXICANO DE OFTALMOLOGIA
Co-author(s): RENATA GARCIA FRANCO, INSTITUTO DE RETINA DEL BAJIO (INDEREB), QUERETARO MEXICO, ALEJANDRO ARIAS GOMEZ, INSTITUTO DE RETINA DEL BAJIO (INDEREB), QUERETARO, MEXICO
Uploaded on Jan 26, 2020.
Last modified by Caroline Bozell on Jan 27, 2020.
Rating

Appears in

Condition/keywords

candida endophthalmitis

Photographer

MARLON GARCIA ROA, INSTITUTO DE RETINA DEL BAJIO (INDEREB), QUERETARO, MEXICO

Imaging device

Fundus camera

Description

Female, 30-years-old with <<< V Pregnancy Currently with 18 weeks gestation. Pathological personal history 1 month prior hospitalization for complicated acute appendicitis + pyelonephritis + severe thrombocytopenia (autoimmune treated with corticosteroids) with septic shock, appendectomy was performed, due to torpid evolution, intensive care unit with placement of central venous catheter treated with intravenous antibiotics is performed, CT scan is performed of thorax, abdomen and pelvis in search of aggregate pathology; finding multiple renal lithiasis that conditions hydronephrosis and reactivation of pyelonephritis, so he continued with antibiotic therapy and underwent endoscopic lithotomy, due to febrile persistence and with a positive blood culture result for candida Albicans, intravenous antifungals (anidulafungin) were started for 1 week, with improvement satisfactory for what was decided his discharge. During hospitalization it was required to transfuse 2 globular packages and platelet plasmapheresis as well as replacement of calcium, phosphorus and potassium. It refers to approximately 3 weeks of visual loss of the left eye associated with myodisopsia. visual acuity 20/100 Vitritis +, with floating vitreous abscess on the posterior pole, round papilla, slightly erased edges, excavation 0.3, macula without foveolar luster, conserved vein artery relationship, with vessels with multiple mineralization areas and superior peripheral lesion of ¼ diameter of papilla as ball of snow applied to retina.
Related files