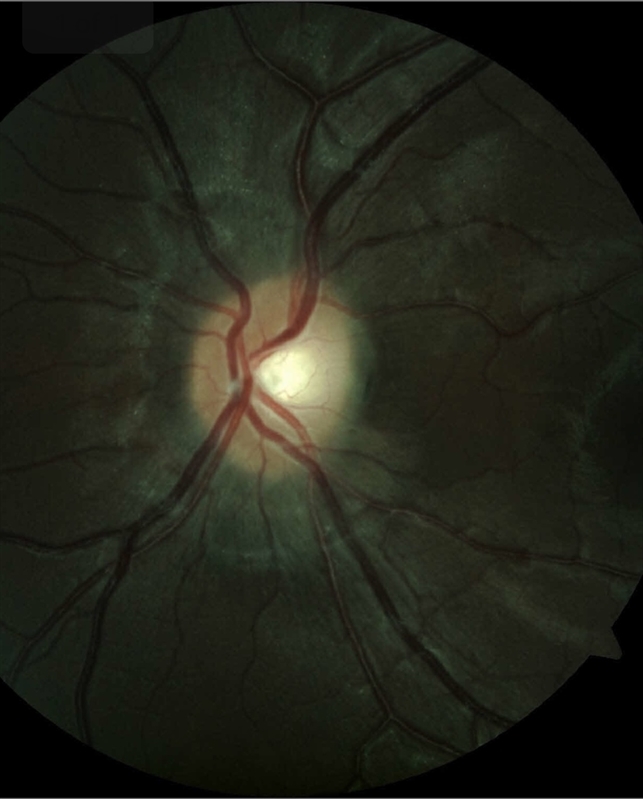 File number: 30074
---
Comments
Sign in to comment.
By John S. King, MD
Retina Associates, PA
Co-author(s): Jennifer Doyle, MD, Neuro-ophthalmologist at the Little Rock Eye Clinic
Uploaded on Jun 1, 2019.
Last modified by Caroline Bozell on Jun 4, 2019.
Rating

Appears in

Condition/keywords

idiopathic intracranial hypertension, transverse sinus stenosis

Description

18-year-old African American female with increased BMI with a history of headaches, nausea, transient diplopia and vision loss that she notices when getting up from her bed (and goes away after standing upright) for the last two weeks. Went to PCP and was treated for the flu, and after no improvement and visual symptoms known, was sent to ED. MRI did not show any masses and showed empty sella turcia. Vision 20/30 OD and 20/20 OS; no RAPD; IOP 15OU; no anterior segment or vitreous inflammation; discs are elevated with obscuration of the disc margins and some of the smaller vessels; there are no SVPs; there are mild Patton's lines temporally (see initial photos). The optic disc cube shows 360 degrees of RNFL thickening (see OCT). Was referred to near-ophthalmologist, Dr. Doyle. She obtained additional work-up, and LP opening pressure was high, and MRV showed bilateral transverse sinus stenosis. Patient showed steady improvement with medical therapy, that included weight loss and oral diamox. On her last visit with Dr. Doyle, vision has remained stable at 20/20-20/25 without an enlarged blindspot; there are SVPs and optic disc edema has resolved (see post treatment photos); she is currently on 1000 mg of diamox and has lost 15 pounds, and no stinting procedure needed.
Related files