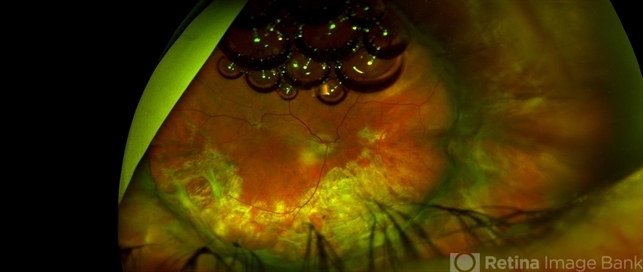 File number: 28248
---
Comments
Hosam Attia, MD (June 7 2018)

Thank you Dr. Huang.
My pleasure, As long as they are intravitreal and not subretinal!

Suber S. Huang, MD, MBA, FASRS (June 7 2018)

Nice eggs. Thank you for sharing this rarely captured image!
Sign in to comment.
Rating

Appears in

Condition/keywords

encircling scleral buckle, intraocular gas, gas bubble, intravitreal gas bubble

Imaging device

Scanning laser ophthalmoscope
Optos California Ultra-Wide Field Fundus Camera

Description

71-year-old male, s/p combined buckle vitrectomy for recurrent, macula-off, rhegmatogenous retinal detachment, with residual gas fish eggs OD.
Related files