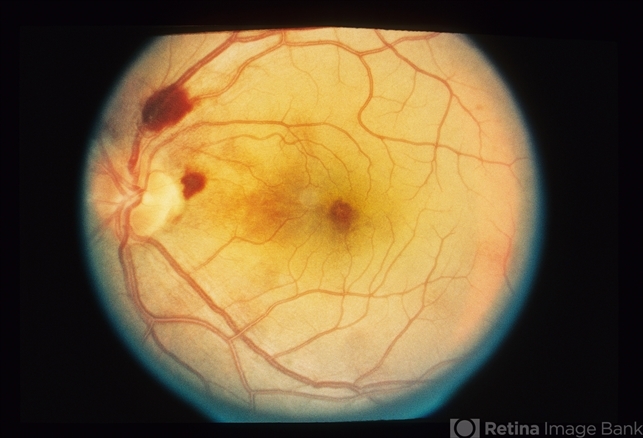 File number: 11054
---
Comments
Sign in to comment.
By Maurice F. Rabb
From the collection of Maurice F. Rabb, M.D.
Uploaded on Oct 8, 2013.
Rating

Appears in

Condition/keywords

Terson's Syndrome

Description

39 year female with a long history of chronic back pain treated by a sequence of epidural injections. Following her last injection, she complained of a moderately severe protracted headache and had several attempts at placement of an epidural blood patch without success. Under general anesthesia, she underwent injection of a larger volume of saline in an attempt to stem a presumed CSF leak producing "spinal headache". In the left eye she demonstrated multiple superficial and deep intraretinal hemorrhages associated with mild disc swelling and a central scotoma. In the right eye she showed a posterior subhyaloid and sub-internal limiting membrane hemorrhage with buffy coat layering superiorly. The visual acuity measured hand motions OD, 20/200 OS. The patient underwent a surgical evacuation of the sub-ILM hemorrhage.
Related files