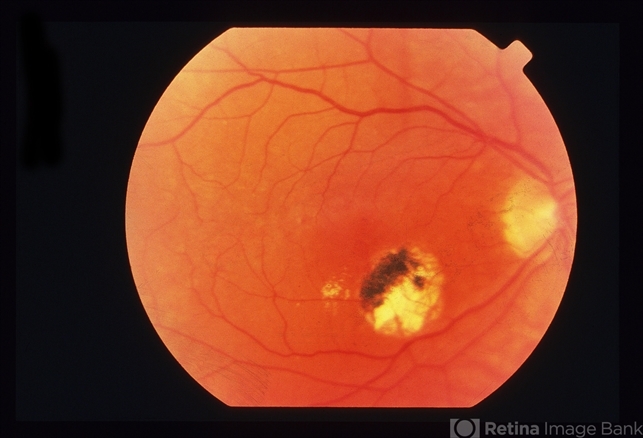 File number: 11036
---
Comments
Sign in to comment.
By Maurice F. Rabb
From the collection of Maurice F. Rabb, M.D.
Uploaded on Oct 8, 2013.
Rating

Appears in

Condition/keywords

ocular histoplasmosis syndrome (OHS)

Description

Thirty six year old white male stated that approximately 5 years earlier he had a blurry spot in his left eye that went away spontaneously after 3 months. Three years later the spot returned. He was seen by a local ophthalmologist who noted two "histo spots" in the left eye. Over the next 6 months his vision deteriorated from 20/30 to 20/200 in the left eye. A week prior to being seen at the UIHC he noted bulginess in his right eye. Visual acuity without correction was 20/15 OD, 20/200 OS. Color fundus photography and fluorescein angiography were performed and the patient was treated with argon laser photocoagulation. Vision decreased to 20/30 following laser surgery, but within two weeks returned to 20/15 and remained that way over the next two years. OVer the following 15 years the patient did well although he developed a recurrence in the untreated left eye and periodically he experienced vague changes in his central field.
Related files