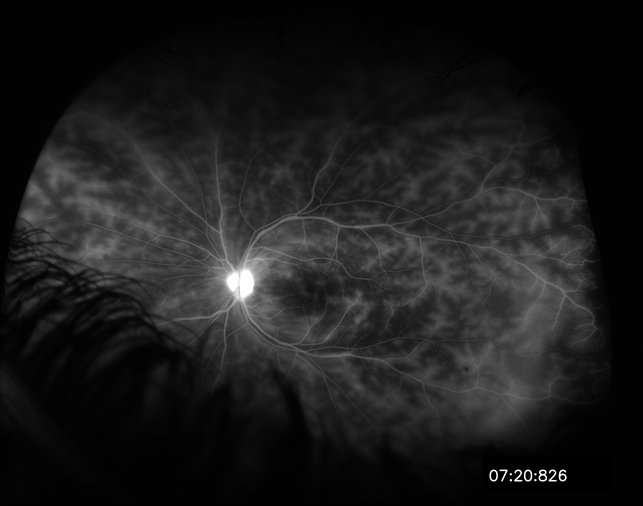 File number: 28349
---
Comments
Gareth Lema, MD, PhD (November 2 2018)

This patient presented as a 14 year old boy with bilateral vision loss. Over the prior 6 months he experienced episodes of blurred vision, photophobia, and redness in both eyes. Each would last a few days and spontaneously resolve. ROS revealed a history of sores in his mouth that were attributed to braces. He never confirmed any history of genital ulcers.

His vision was 20/60 OD and 20/50 OS. In both eyes, he had anterior chamber cell and flare, posterior synechiae, and vitreous cells. OCT showed foveal macular edema in both eyes.

The only positive lab was HLA-B51.

He was managed with topical steroids, subtenons kenalog, and oral steroids, until Remicaide and IV solumedrol were started by his rheumatologist. Methotrexate was started to taper the patient off of solumedrol.

Five years years later, the patient is controlled with Remicaide and Methotrexate. He maintains vision of 20/25 in both eyes and is followed with wide-field fluorescein angiography.

Suber S. Huang, MD, MBA (September 21 2018)

Superb image of widespread retinal vasculitis due to Bechet's. Please consider updating the clinical history to more fully characterize other clinical findings, relevant testing, and confirmatory results. Thank you!
Sign in to comment.
Image of the week

Nov 4, 2018
View all images of the week

Rating

Appears in

Condition/keywords

Behcet's Disease, retinal vasculitis, cystoid macular edema (CME), disc staining

Photographer

Ross Eye Institute, University at Buffalo Jacobs School of Medicine, Buffalo. NY

Imaging device

Scanning laser ophthalmoscope
Optos

Description

IVFA at 7 minutes showing retinal vasculitis, cystoid macular edema, and disc staining.
Related files